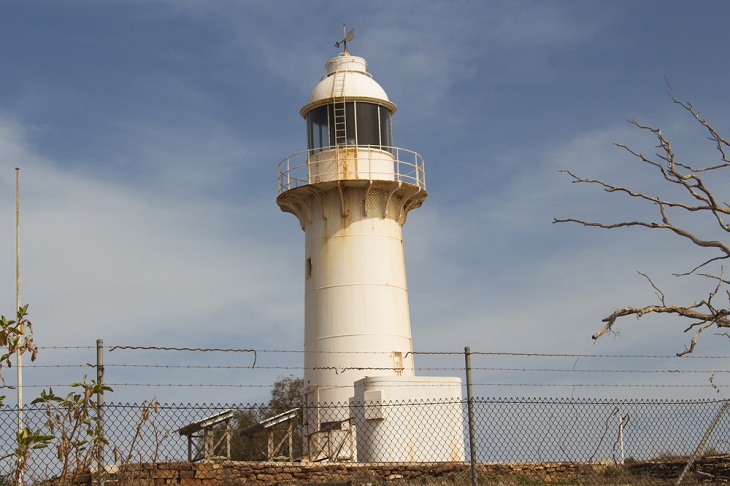 If you're considering a Broome to Cape Leveque tour, you're in for a fantastic experience. The long road between Broome and Cape Leveque is perched on the Dampier Peninsula and is well travelled by visitors and locals alike. While the road may be a little bumpy in places, the red Cape Leveque cliffs, clear Indian Ocean and intense blue skies make it a photographer's paradise. If you're still unsure about undertaking a Cape Leveque tour, we'll explore this in a little more detail, so you can know a few highlights to expect along the way.
Beagle Bay Community
Just outside of Broome, you'll reach the Beagle Bay Community. This is where the Sacred Heart Church is located; a historical site with a wonderful pearl shell alter. You can browse the church, exploring the beauty of the building and the artifacts before enjoying a cool drink under the shade of a Mango tree.
Aquaculture Hatchery
A little over an hour after getting back on the road and you could be at the One Arm Point community, which has a fascinating aquaculture hatchery. The hatchery sits on the Dampier Peninsula, where you can see and hear the high tides of King Sound swirling past. Just watching the eddies is mesmerising, but at the hatchery, you'll see some beautifully polished shells, and you can buy shell jewellery pieces that have been made by community members.
Cygnet Bay Farm
You can take a guided tour of this amazing pearl farm, learning details of the history of the Farm. Cygnet Bay dates back to 1946, making it the oldest Australian owned pearl farms still in operation. You can also watch how a pearl is removed from a live pearl shell and browse the pearl jewellery gallery to take home a special memento of your trip.
This is also a great place to stop for lunch, where you can enjoy a fresh lunch at the Farm's restaurant overlooking the bay.
Kooljaman
After a brief journey, you'll reach Kooljaman at Cape Leveque. You can take a quick dip or just enjoy the beautiful white sands while looking at the brilliant red cliffs. As the sun starts to set, you'll see some stunning colours as the bright blue seas contrast with the white sand and red cliffs.
Returning to Broome
After such an activity packed day, you can relax on your way back to Broome. This journey is approximately 220 kilometres, so you can watch the setting sun through the bush before you'll find yourself in sedate darkness. Of course, it is worth looking out for roaming animals that tend to be a hazard in the evening. After a full day of great food, snacks, and drinks, you may even find yourself having a doze before you get back to your accommodation later in the evening.
If you're considering a Cape Leveque tour, be sure to speak to us. We offer a fantastic selection of tours and packages including our Broome to Cape Leveque tour. You'll find our team happy to discuss your requirements to help you to plan your dream trip.